We perform air duct cleaning for both residential and commercial clients in the area.
Although outdoor air pollution is a problem that can impact our health and well-being, indoor air pollution is a much more substantial concern because of its prevalence. Countless homes and businesses are impacted by contaminants that circulate through the air.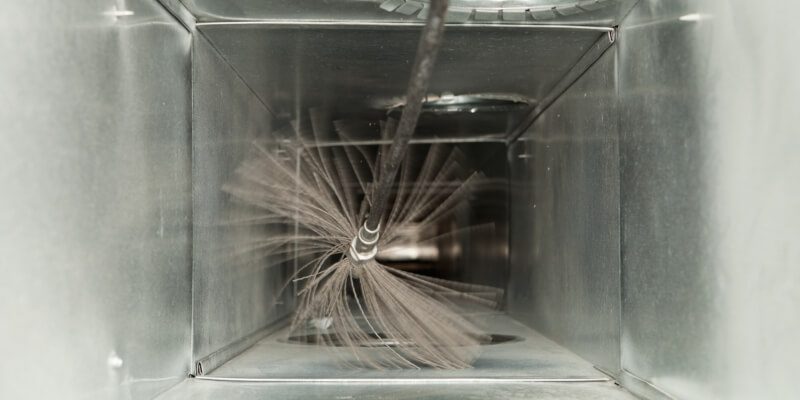 When the HVAC system runs within a space, it pulls air through the ducts and then that air moves back through the vents to maintain a consistent and comfortable indoor temperature. But if the air contains mold spores, dust, and other contaminants, it can cause various health concerns.
Many people suffer from allergies to mold, which can cause symptoms like congestion, sore throats, and eye or skin irritation. Mold grows where moisture is present, so an undetected leak or even excess humidity in the air can cause these spores to spread throughout a space. Other contaminants can get tracked into the HVAC system too, such as pollen and dirt. The debris settles in the ductwork, impacting the air you breathe when it circulates.
Luckily, our team at Steam Source can take care of this problem with professional air duct cleaning services. We use high-end equipment to remove potentially harmful contaminants from your ducts, ensuring that you and your family can breathe clean, healthy air.
If you're in or around Advance, North Carolina, reach out to us to schedule an air duct cleaning service. We perform air duct cleaning for both residential and commercial clients in the area. If you have any questions about the process of duct cleaning or how it can benefit you and those with whom you share your space, give us a call today.
---
At Steam Source, we offer air duct cleaning services in Winston-Salem, Greensboro, Kernersville, Clemmons, Advance, High Point, Mocksville, Pfafftown, Jamestown, Oak Ridge, Summerfield, Lexington, King, Walkertown, Colfax, Lewisville, Welcome, Bermuda Run, Thomasville, Mt Tabor, Yadkinville, and Walnut Cove, North Carolina.