Feeling Puzzled About Area Rug Cleaning?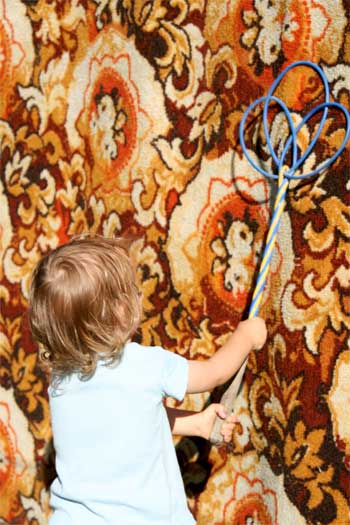 An area rug is a wonderful décor choice to warm up a tile or wood floor and add a bit of color in the process. When you decided to get one for your living room, dining room, or other room of your home, you probably didn't think much about how to maintain it. As is the case with wall-to-wall carpeting, regular vacuuming is necessary to keep it in good shape. This keeps dirt from being ground in and damaging the fibers. However, what happens when you need more thorough area rug cleaning?
It is probably too large or the wrong material to stuff into your washing machine and clothes dryer. It might also be too big to drape over a clothesline and beat with an old-fashioned rug beater. Besides, neither of those would be terribly effective if you had a stain to contend with. You can't use a steam cleaner because you could damage the flooring below and you would probably struggle to keep the area rug from moving about. Considering all these puzzling issues with area rug cleaning, the best solution is calling a professional carpet cleaner with experience with area rugs.
A professional has the correct equipment for area rug cleaning and will come pick up your area rugs and take them to their facility for proper handling. They will go through a multi-step cleaning process and then be returned to you looking like brand new.
The reality is that area rug cleaning is not child's play. It takes an expert to get a rug truly clean while not damaging the fibers. Trust our professionals at Steam Source to get your area rugs, including Oriental area rugs, looking great again. Our five-step process and convenient pickup and delivery in the Winston-Salem, North Carolina area takes the puzzlement out of area rug cleaning.