Once-a-year pressure washing job could save you hundreds of dollars on future home repairs in Winston-Salem.
Customers are always asking me "What are the benefits of pressure washing?" We'd like to take a moment and give a very detailed answer to that question.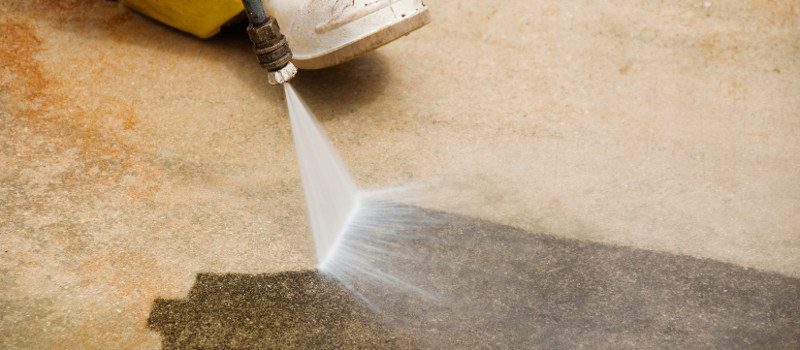 Simply put, pressure washing uses a high-pressure water spray to blast away the dirt that is surrounding your home. It can be used to clean a multitude of surfaces, including aluminum or vinyl siding, concrete, and even wood. There are also many benefits associated with pressure washing, like preventative maintenance, self-satisfaction and home appeal, and not to mention health and safety.
Preventative Maintenance
One of the most beneficial reasons to having your Winston-Salem, North Carolina home pressure washed is because it can help save you money on any repairs needed in the future. Pressure washing should be scheduled regularly just like any other home maintenance task, such as window washing or cleaning out your gutters. Unfortunately, though, because of the many different and high importance demands of our day to day, we tend to forget about home maintenance or simply just don't make it a big deal. The reality of this, though, is that it can be a huge help, even when done only once a year. Pressure washing can increase the lifetime of your home and outdoor properties by years by reducing the amount of dirt, mold and mildew on these items and delaying any sort of rot and decay these things may cause. Simply put, something as small as a once-a-year pressure washing job could save you hundreds of dollars on future home repairs.
Do's and Don'ts of Pressure Washing
Self-Satisfaction and Home Appeal
Another great reason to have this service done is for simple self-satisfaction and the appeal of your home. Your home is a huge financial investment, and we know you work hard for it. If you're thinking about repainting or replacing some of that dirty siding, let us help before you spend all that extra money. Our customers are always impressed with how much a simple pressure washing can do for their home's attractiveness and end up saving money by not opting for those more tedious and expensive tasks. Another reason for this may be that you're trying to sell your home. When a possible buyer looks at your home and gets a good first impression, it can add a value of up to 5 or even 10 percent!
Health and Safety
Along with all the other reasons we've mentioned, there's also the factor of health and safety. If you've got any of that excess build-up of dirt, mold, mildew, or even oil, it can be harboring several thousands of living bacteria and allergens. Mildew and algae like to grow in damp or shadowed areas, while oil may drip from your car onto the driveway. By pressure washing these areas and removing all of these foreign invaders, you are not only protecting your family (and any visitors to your home) from getting sick, but also from any bodily harm that may come from slipping on some of these very slippery surfaces.
Things your pressure washer should know and do:
Use the right spray nozzle. There are many different nozzles, and each one provides a specific pressure for that specific surface.
Add a commercial-grade, eco-friendly detergent to the water being used to help with the removal of even the toughest dirt and mold.
Start spraying with the stream away from the surface and slowly make your way closer to it.
Working from side to side, start with the top and work your way down.
With all of this information, we can conclude that pressure washing will not only save you money but also increase the look and health of your Winston-Salem home.
FAQs About Pressure Washing
Our team at Steam Source wants to help you keep your home or commercial property looking its best, and we offer the top-notch pressure washing services you need to do just that. Below, we have put together the answers to a few of our most frequently asked questions on the subject for you to check out.
How often should I have my home pressure washed?
In general, we recommend that you schedule pressure washing services for your home or business every 1-2 years. Having your building pressure washed every year or so will help prevent grime buildup and will also help keep your exterior free of mold and other damaging microorganisms.
What kinds of pressure washing services do you offer?
Our team has extensive experience in pressure washing, and we know how to effectively clean your siding, concrete, roof, windows, and many other structures. You can count on our team to deliver the top-notch results you deserve, making your building look like new.
I heard that pressure washing can damage my building—is this true?
While it's possible for the high water pressure used in pressure washing to damage surfaces, our experts know exactly how to gauge the pressure and make sure that it is effective against dirt and grime while also being safe for the target surface. For this reason, we recommend hiring trained professionals to take care of your pressure washing needs for you rather than attempting to do so yourself.
How much do pressure washing services cost?
Pressure washing companies calculate the price of their services based on the size of the job. In general, it costs roughly $150 to $350 to have a house pressure washed and between $100 and $250 to have a deck or driveway cleaned in this way.
---
At Steam Source, we offer pressure washing services in Winston-Salem, Greensboro, Kernersville, Clemmons, Advance, High Point, Mocksville, Pfafftown, Jamestown, Oak Ridge, Summerfield, Lexington, King, Walkertown, Colfax, Lewisville, Welcome, Bermuda Run, Thomasville, Mt Tabor, Yadkinville, and Walnut Cove, North Carolina.
Similar Services We Offer: