Concrete pressure washing can breathe new life into your Winston-Salem home's exterior.
They say that you never get a second chance to make a first impression, and that same saying applies to your home, as well! When someone drives up to your Winston-Salem, North Carolina home, you want them to see the time, effort and care that you've put into it, not the oil stain on the driveway! If you would like to make the best impression possible with your home, our team at Steam Source would like to help you with our concrete pressure washing services.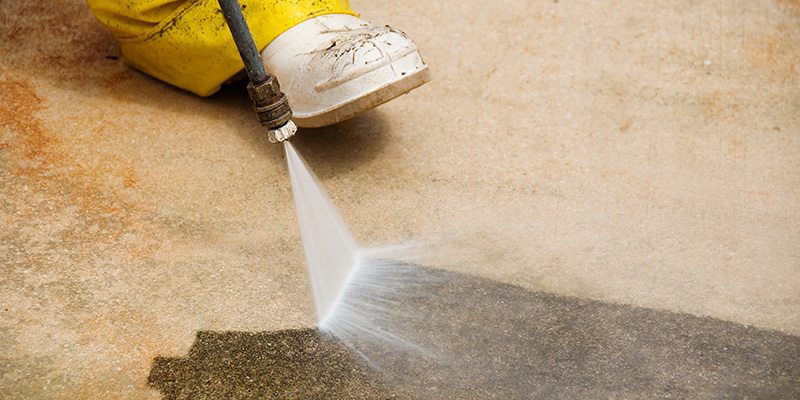 Our concrete pressure washing services can do wonders for your worn or stained concrete. Because of the outdoor nature of concrete, it's a substance that can really take a beating! Weather, debris, dirt, oil, and all kinds of other substances can stain or discolor your concrete, making it look tired or worn. Thankfully, it doesn't have to stay that way. Our concrete pressure washing services can help eliminate stains from grease, oils, or dirt or other frequently used and discolored portions. When we are done with our concrete pressure washing, you'll feel like your concrete looks like new again!
Do's and Don'ts of Pressure Washing
Once we have completed your
concrete pressure washing,
you might want to freshen up your other outdoor areas, as well. We can also assist you with pressure washing of your siding and patios. If you would like to learn more about our pressure washing services, including our concrete pressure washing services for your Winston-Salem home, we would love to hear from you. Please
give us a call
today and let us show you the beautiful concrete that is hiding beneath that dirt and grime!
FAQs About Concrete Pressure Washing
We at Steam Source want to help you keep your concrete structures in great condition, and to do that, we offer top-notch concrete pressure washing services. If you have questions about these services, we encourage you to keep reading to get the answers you are looking for.
How often should I have my concrete pressure washed?
In most cases, scheduling concrete pressure washing services once per year should be enough to keep your concrete clean and in good condition. Our experienced technicians will make sure your pathway, retaining wall, patio, or any other concrete structure looks spotless by the time we are through, and that it is free of any mold, mildew, or algae as well.
Can I do my own concrete pressure washing?
While it is possible to buy your own pressure washing equipment for home use, you will get better results by hiring our team to take care of your concrete pressure washing instead. We have the right experience to provide the thorough clean you are looking for, and we also know how to correctly gauge the water pressure to ensure we achieve a thorough clean without damaging the concrete.
Can pressure washing really damage concrete?
Pressure washing gets its name from the high-pressured jets of water that it uses to remove dirt and grime—if that pressure is high enough, it can damage even concrete. Of course, our team has the necessary experience and training to judge the water pressure correctly and ensure that it does not damage the target surface.
---
At Steam Source, we offer concrete pressure washing services in Winston-Salem, Greensboro, Kernersville, Clemmons, Advance, High Point, Mocksville, Pfafftown, Jamestown, Oak Ridge, Summerfield, Lexington, King, Walkertown, Colfax, Lewisville, Welcome, Bermuda Run, Thomasville, Yadkinville, and Walnut Cove, North Carolina.