Commercial Tile & Grout Cleaning Services
Most professional and commercial environments contain a variety of different types of flooring surfaces. These flooring surfaces often have high amounts of traffic daily. It is common for businesses to typically have a small or large amount of Tile and Grout surfaces in their work place. Continuous heavy traffic daily can leave Tile and Grout looking far from desirable. It can result in spills and embedded dirt and debris. Steam Source can professionally clean tile and grout surfaces to restore them to their original appearance.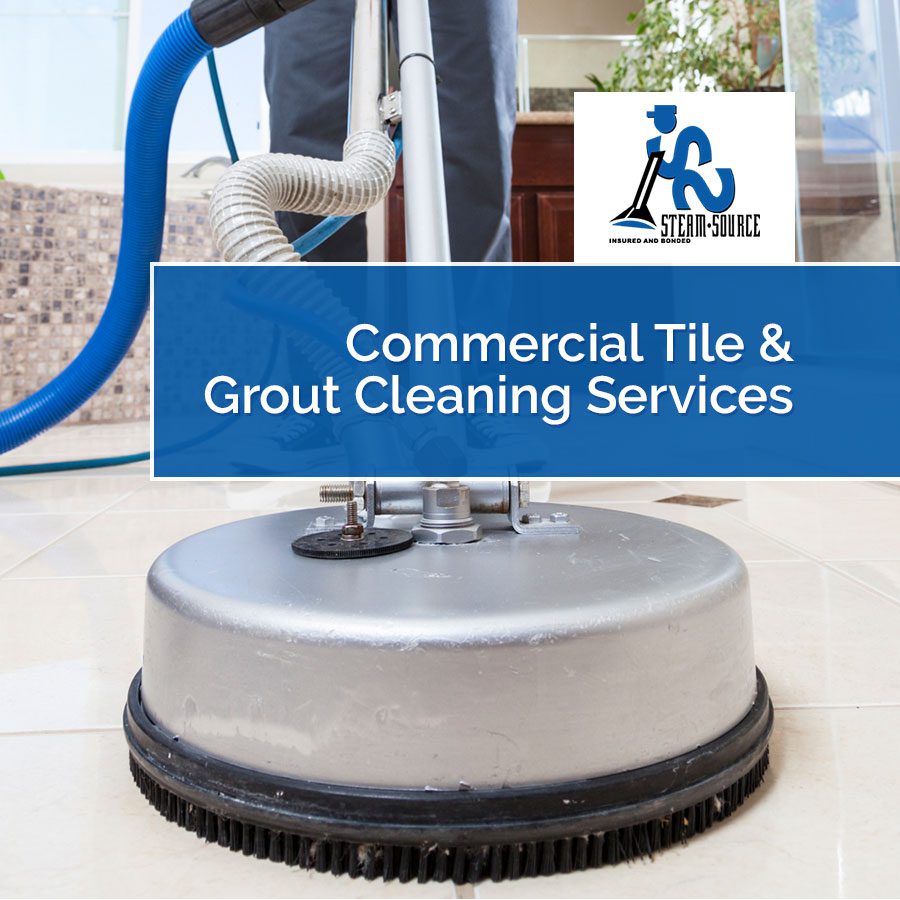 Tile & Grout Cleaning
Steam Source offers professional Tile and Grout cleaning services. It can be very difficult to achieve a deep clean without professionally cleaning your Tile and Grout. General scrubbing, hand cleaning and mopping are not only hard work but often does not result in the deep cleaning that you had hoped for. Grout is porous and therefore collects dirt, spills and residue which can also result in discoloration. Our trained and certified cleaning specialists can help to make your Tile and Grout look like new again!
Steam Source inspects your tile and grout to determine the best cleaning method and if there are any areas that need special attention or consideration. Our cleaning solutions break apart dirt build up that has been pressed deep down into the pores of the grout. This pre-spray solution is included in all tile cleaning services to ensure the deepest clean possible. Our high pressure water and vacuum systems then extracts the dirt contained in your tile and grout surfaces and pores.
Sealant
After your tile has been professionally cleaned it is then time to seal your Tile and Grout. We apply a finishing coat of our clear sealant on your Tile and Grout. This helps to keep your tile looking beautiful and like new. The sealant creates a protective surface that acts as a barrier against spots, spills and prevents stains on your tile from becoming permanent. It also helps to extend the life of your flooring by preventing debris that can weaken your tiles over time.
Steam Source offers a variety of service schedules to fit the needs of your business. We offer services to the triad and surrounding areas including, North Carolina, South Carolina and Virginia. Call today for a Free Estimate! 336-760-4660