Commercial Protector and Deodorizers
Carpet Protector
Carpet protector is an invisible coating which re-seals your carpet fibers and provides a high resistance to spots, spills, grease build up and stains. Carpet Protector will enable us to remove stains easier and even some that would otherwise become permanent. It aids in prolonging the life of your carpets and it will also help the cleaning to last longer. Carpet manufactures recommend reapplying protector with each and every cleaning due to the fact that the protector breaks down over time leaving your carpets more vulnerable to permanent stains, grease build up and overall wear.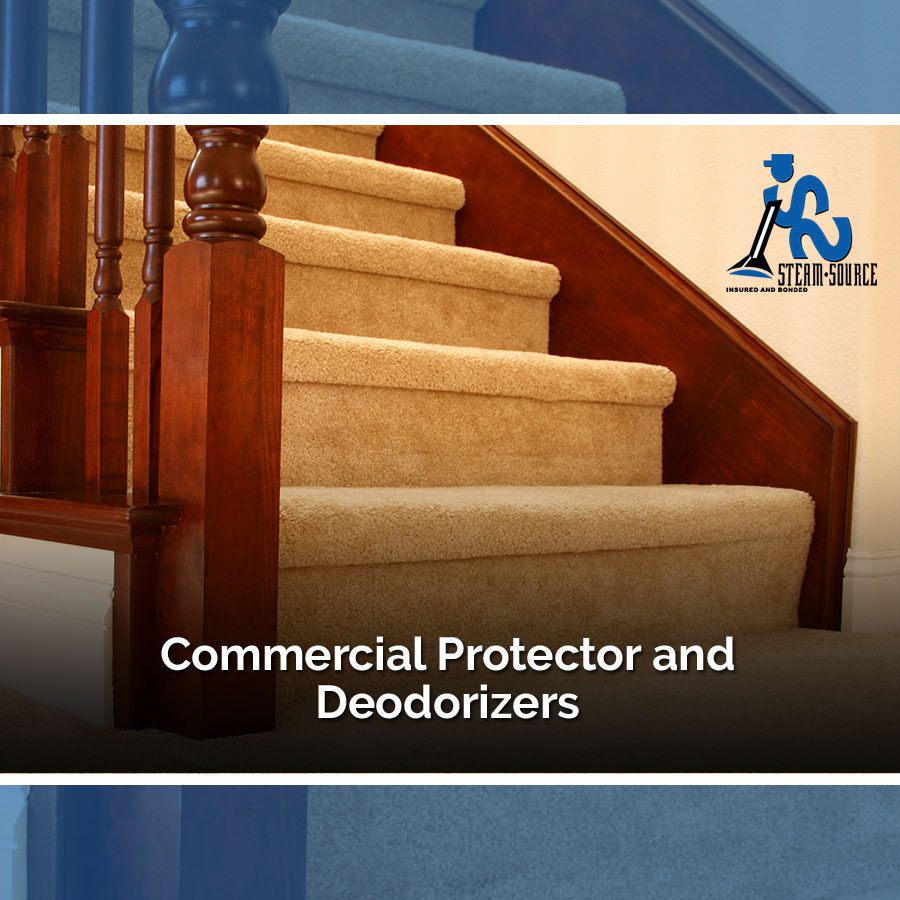 Fabric Protector
Delicate fabric protector is an invisible coating which re-seals your upholstery fabric and provides a high resistance to spots, spills, and stains. Delicate Fabric Protector will assist you in removing stains that would otherwise become permanent along with helping in the resistance of dirt and grease build up. This Protector will prolong the life of your upholstery and will improve cleaning results for your future cleanings.
Anti-All Deodorizer – Commercial Strength
(Anti-Bacterial, Anti-Mold & Anti-Mildew)
Steam Source would like to offer you our anti-bacterial and deodorizer. Our professional strength, non-corrosive disinfectant that's highly effective against a broad spectrum of bacteria, viruses, and fungi. Our specially formulated sanitizer inhibits growth of mold and mildew and handles tough odors, especially focusing on grease, sewage, and even perspiration. This truly is an amazing, safe, hospital-level disinfectant and works very well for all sorts of odors in the business and the home. It sanitizes porous and nonporous surfaces as well, so we can even apply it to your tile!
Cherry Deodorizer
We know that sometimes your restaurant may not have the most pleasing aroma .This can be difficult due to all the different types of foods, beverages, and especially the high traffic of customers and grease and spills that occur throughout the restaurant. Steam Source can help by offering our specially formulated Cherry Scented Deodorizer. This amazing Cherry Deodorizer is available in a quart spray bottle for your convenience!
As an added bonus to our recurring commercial clients, this cherry deodorizer will be sprayed after every cleaning at no extra charge!